Millet processing project introduction:
Millet processing project refer to the millet processing plant, which consists of the following sections: millet cleaning, hulling, husk and rice separation, whitening, polishing and color sorting.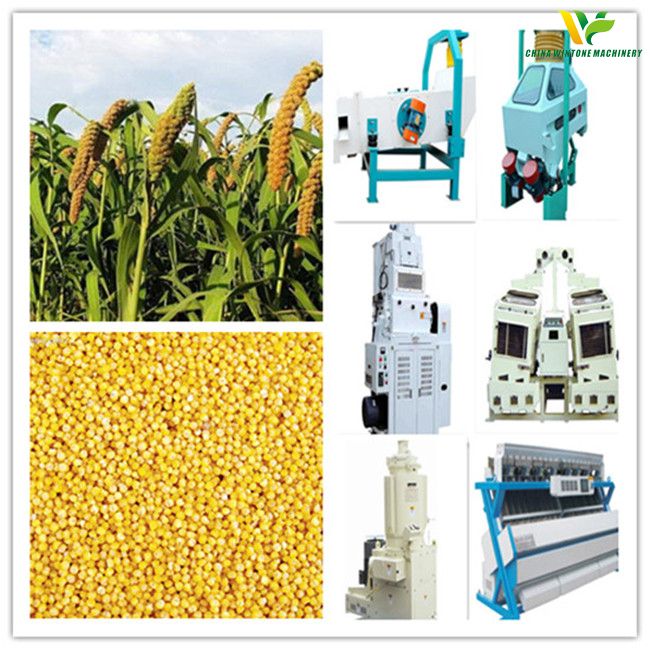 Millet processing machines technology and features: this plant adopts once screening, once magnetic separation and twice destoning to clean the raw millets. Then there has hulling, rice and husk separation, three times of peeling, whitening and polishing, and it separates broken millet by sieving and classifying. The whole millet kernels will be selected by color sorter and then we can get net qualified millet.
Millet processing project features:
High yield, low broken millet rate, purified end products, even granularity.
It has automatic pulse dedusting system which is sanitary, has low noise and has no pollution.
Electrical control system is equipped with overpressure, undervoltage and electrical shock protection system to ensure the safety of the electricity.
Light hulling for many times to decrease millet breaking rate and increase total purified yields of epigranular kernels, reaching national standard.
Ventilation, dedusting with air slide
Having sanitary and secure auto pulse dedusting system with noise pollution.
Millet processing project structure:
Steel platforms, automatic and electromechanical operation.
Requirement for raw millet:
Moisture ≤15%,impurities rate ≤1.5%
Main production index:
1. Production capacity: 50t millet/24hours
2. Products structure and yield rate: net millet yield rate: 70-75%;damage rate:1%;skin and husk rate:25-30%
Millet processing plant processing capacity: 20t-500t
Our Factory
Workshop
Exhibition

Customer Visit
Our Team