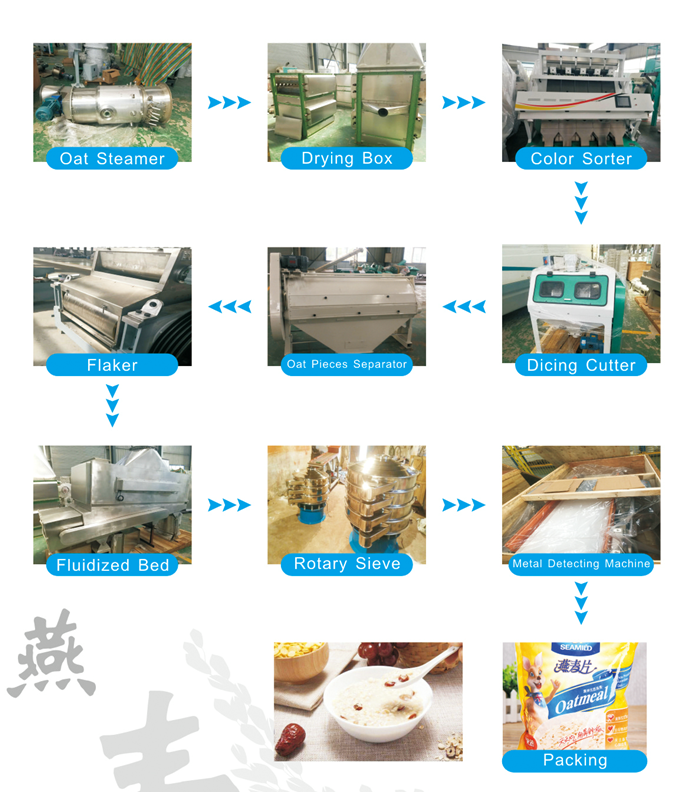 Oat Flakes Production Line:

Oat Flakes Production Line refers to the oat flakes processing plant which includes the following procedures:

Its core equipment is oat flakes machine, which adopts totally enclosed safety protection. Its tooth roller design has the reasonable inner tooth-reverse form. It has fine workmanship, high yield, reliable performance and can produce qualified oat flakes.
End Products Quality Index:
A. Oat rice yield rate≥ 80%
B. Oat flour yield rate≥90%
1. Granularity: 100 mesh
2. Sand content: ≤0.02
3. Magnetism metals g/kg≤0.003
4. Moisture%≤13.5%
Raw grain moisture ≤ 14%
Oat Flakes Production Line Technological Process:
A. Cleaning section: once cleaning, twice stone removing, once magnetic separation, once awn cutting, and auxiliary wind cleaning.
B. Oat peeling and baking section: there have two vertical emery roll peeling machines and two vertical iron roll peeling machines to peel the oats completely. After being peeled, oats rice can be directly packaged or enter into bakery section for curing. The cooked oat rice can be packaged and the uncooked oat rice can be conveyed to flour milling section for oat flour milling.
C. Flour milling and blending section:
Both oat uncooked rice and cooked rice can be conveyed to milling section and are milled by fine powder machine. Then we can get oat flour and oat cooked flour. In milling section, we will set 4-5 stock bin to allocate different grains. Then we have flour blending bin and microscale adding machine for flour blending.
D. End products and by-products packaging:
1. Different packing methods for end products and by-products: oats rice and oat flour adopts Electronic quantitative packing machine to package due to large yield, while impurities and dust adopts machinery packing cabinet to package considering from the yield and products features.
2. Technological design introduction for pneumatic transmission and dust removal by ventilation:
Fine powder and light sundries adopt sealing negative pressure wind transmission. High pressure blower is equipped with new TY series, and medium and low pressure blower adopts 4-72 series. Dedusting system and the high pressure wind net are both equipped with new type of pulse dust collectors.
Our Factory
Workshop
Exhibition

Customer Visit
Our Team